Beautifully put by the Candyman himself. And hey, if you're going to bleed, may as well make it for a good cause. What better one to do it for, than the highly celebrated horror-themed blood drive, created by "Twisted Twins" Jen and Sylvia Soska and woven together with the works of talented independent artists of the horror community! Check out the details in the official presser below: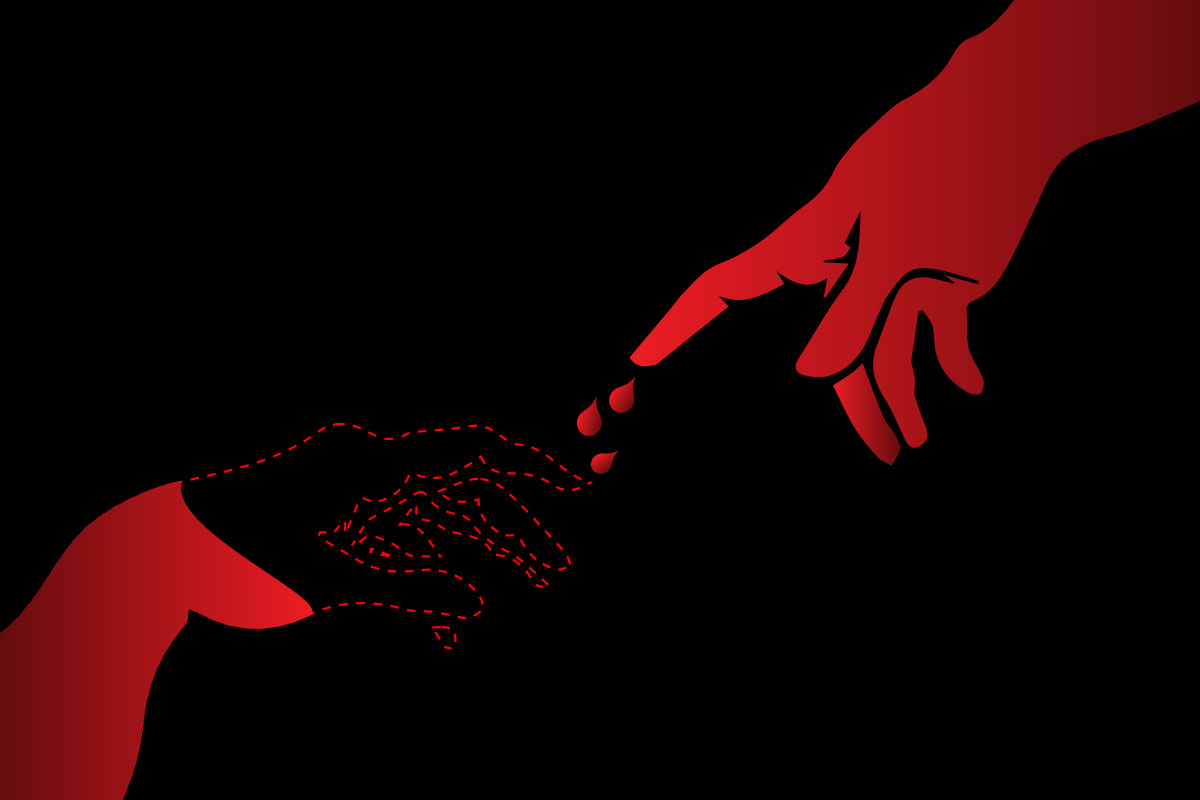 2018 WiHM BLOOD DRIVE PSA
Hey there!
It's that magical time of year again where we Sisters Soska don't just want to spill blood on the screen, but want YOU to bleed for us.

Don't worry, it's for an incredibly good cause.

Now in it's 9th EPIC year, February marks the start of another Women In Horror Month meant to promote equality and celebrate the great artists both working today and the trail blazers who've come before.

As we all know women are quite capable and we're not asking for a hand out. Just some support. We've even taken it upon ourselves to be the ones giving back. You can't think horror without thinking blood and we've long wondered why the horror genre hasn't already thrown its weight behind the blood donation cause. So we did it.

As part of WiHM, each year we search out filmmakers from across the globe to make their own Public Service Announcements for Blood Services and Red Cross. The only requirements are that you have to be passionate about the cause and you must be a feminist. I'm proud to say that this year we have a record setting 30 TEAMSthat have participated. Magnificently each PSA was made with the filmmakers using their own money and resources along with generous donations and numerous volunteers.

We have a different themes each year and this year is BE A HERO.

In previous years, we've combined them all into one mega anthology, but this year we're making it our BIGGEST year yet. EVERY day in February (starting January 31st and ending March 1st) we will be releasing a NEW PSA via our Twisted Twins YouTube Channel (https://www.youtube.com/user/twistedtwinsstudios). Please subscribe.
 
We are very proud to announce our outstanding list of contributors for our 2018 WiHM Massive Blood Drive:

Hannah Neurotica (WiHM Founder), Lex Lybrand, Paddy Murphy, Tonja Atmoic & Mi Chelle Nessk, Mary Rangel, Atropa Films, Maude Michaud, Tommy Pistol, Ama Lea, Damon Rickard, Adam Marcus, Stitch Mays, Marilyn Thomas, Joe Magna, Jamie DeWolf, Vanessa Wright, Nicholas Burman-Vince, Christian Francis & Mark Miller, Izzy Lee, Aleah Anseth, Sam Hawkins & Kim Pipkin, Andrew Hass, Dayna Noffke, Vicky Tori Ella, Aishlinn Clarke, Stephanie Michelle, Brandon Slagle, Michelle Romano, Angela Nolan, and us, the Soska Sisters.
Each day we'll release profiles on the filmmakers along with their shorts and sometimes even poster art and BTS stills. As a special added surprise, you won't know which one is being released when, so keep your eyes on the prize!

Thank you so much for watching, but PLEASE be sure to make an appointment to donate. We need you. After all, it's in you to give.
Jen and Sylv