Sarah Giercksky's Create Your Killer is the story of three young people, Amanda, Adam, and Isabella, who stay in one Saturday night playing video games. Suddenly they find a VHS-tape labeled, ''Create Your Killer'' - a game that promises to change everything.
Create Your Killer is a humorous, gory celebration of both video games and slasher films from the 80's, with a few horror icons from the 70's thrown in for good measure! We have a great cast and crew working on this production. The game's players, below:
What We Need & What You Get
The money we are able to raise will go towards paying Cast & Crew, creating quality SFX, keeping everyone fed throughout production, and of course covering post production cost (with a festival run to follow after). Remember, the more funding we get, the better the film will be.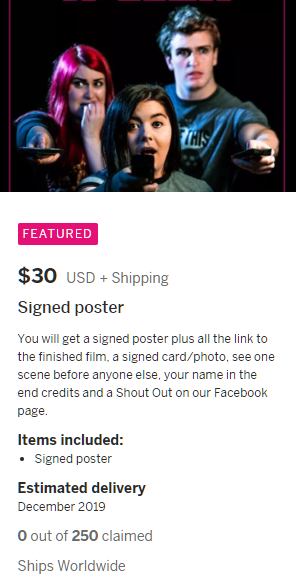 AWESOME PERKS FOR ANY CONTRIBUTOR
*A signed Create Your Killer limited edition poster
* A hand painted Create Your Killer signed poster by artist Simon Pritchard
* A link to the finished film
* Merchandise from my first feature film Sargad
* Signed Player cards of the main characters
* Name in End Credits
* Become an executive producer
...and a few more, so take a look and see which one would suit you the best.