Directed by: Dave Jackson
Written by: Dave Jackson
Starring: Mika Toyama, Kana Yoshida
14 MINUTES
JEREMIAH'S TAKE
You knew it already, but I'll say it anyway, Gacha Gacha is bat shit crazy.

Like a lot of the work put out by Dave Jackson and his supporting crew at Phantasmes Video, Gacha Gacha absolutely revels in madness and obsession. With Cat Sick Blues, it was born out of grief and loss. Here, it's born out of an unhealthy desire to collect, amass, and compete.
From the short's kickstarter description:
We follow a woman (played by Mika Toyama), living alone in a tiny apartment surrounded by an enormous collection of Gacha capsule toys. She gets news of an upcoming Gacha of incredible scarcity. She rushes to her local Gacha shop, and, impossibly enough, that ultra-rare Gacha ends up tumbling out of the machine.
The film's leads - Mika Toyama and Kana Yoshida (the other gacha-obsessed collector) - play their roles to perfection. There is a history of rivalry that's made apparent just in body language alone. Gacha Gacha features very little in the way of spoken dialogue, most of its world building impressively accomplished through strong performances and clever visual cues. Mika's smug expression of triumph, the flippancy and disregard for her rival's heart-breaking defeat; all telling of her role in this worryingly cyclic indulgence of materialism. This of course leading to the excruciating outburst let out by the capsule-garbed Kana Yoshida (unquestionably, one of the best moments in the short film); no doubt an emotional display built-up from countless prior defeats. This isn't the first time this sequence of events has played out in such a way either (Mika scoring the coveted capsule toy - in this case the tanuki - and Kana....not), but there's definitely a strong indication it could be the last.
And how exactly does the Deiter Barry created "gooey tanuki" play into all this? Well, without giving too much away, lets just say its spotlighted moment stands as a punctuation to the film's core message of fleeting obsession, leading to a rather ballsy, but appropriate ending. It's a direction I honestly didn't expect, but very much still a Dave Jackson move. I'm almost positive at this point, given his body of work leading up to this, the director undoubtedly derives pleasure in both subverting audience expectations and eliciting strong cathartic reactions. We gawk, gag, and squirm - he smiles, laughs, and rubs his filthy little hands together, probably thinking of new ways to do it again. To iterate further, Gacha Gacha is zany, gross, smart, well produced, lit like a fever dream, and indicative of the fringe Japanese cinema which inspires Jackson. Takashi Miike would certainly be proud.
DAVID'S TAKE
Much like Cat Sick Blues, Gacha Gacha throws all of my favorite elements of genre cinema into a blender - while showcasing a refined and polished growth in Dave Jackson's skill as a director. The two leads are a perfect contrast of one another, perfectly portraying how our inner obsessions with collecting can get the best of us. Who wouldn't want a tiny tanuki dripping in slime, I think we'd all get a little crazy for something like that.
Everything in the film works so well, but for me the absolute highlight was the humour. There is a scene towards the end involving a turtle that is so subtle and hilarious. It was the perfect way to end the short, on the highest note, making me that much more excited for whatever the Phantasmes crew does next. I'm salivating...
SARAH'S BRIEF IMPRESSION
Wow that was something else! An odd and intriguing story, featuring some very beautiful music which perfectly fit the mood, and an unexpected ending!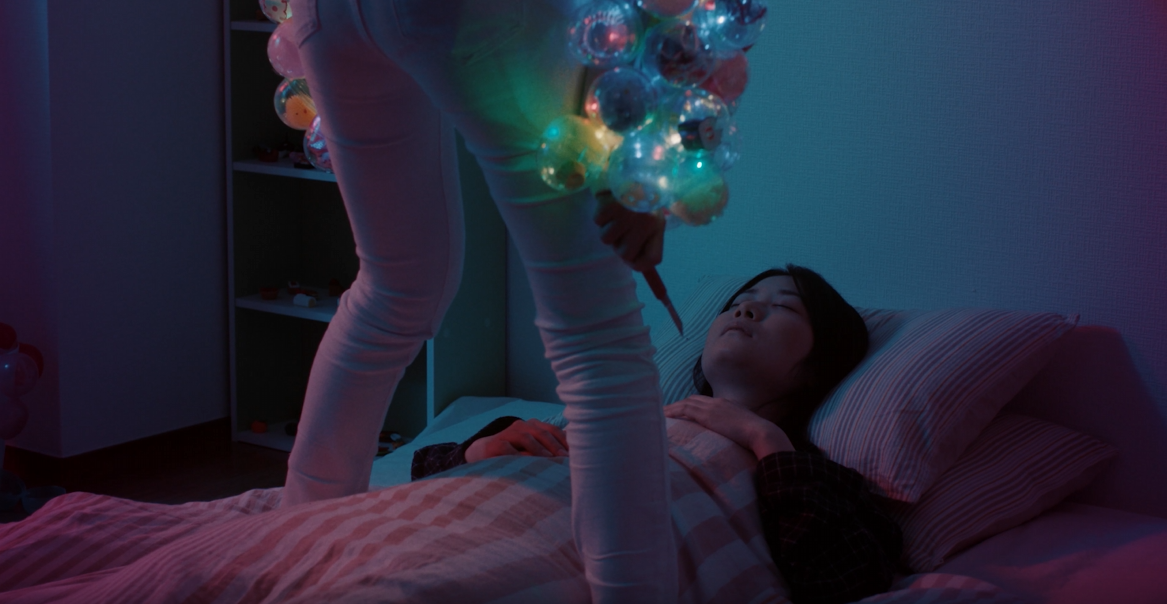 WOW, sounds great. So, uh, where can I watch it for myself?
WELL, BY THE TIME YOU'RE READING THIS, GACHA GACHA SHOULD HAVE HAD ITS PUBLIC PREMIERE IN JAPAN. IF YOU'RE ONE OF THE FORTUNATE FEW ABLE TO ATTEND, WELL THEN, AREN'T YOU SPECIAL. AS FOR EVERYONE ELSE (THAT DIDN'T KICKSTART THE PROJECT) AND AWAITING THEIR CHANCE TO SEE IT, PATIENCE. DAVE HAS EVERY INTENTION OF EVENTUALLY RELEASING THE SHORT FILM ONLINE.
EVENTUALLY.
LOOK, IT'S YOU'RE OWN DAMN FAULT FOR NOT KICKSTARTING THIS THING. WE TRIED TO TELL YOU. IN THE MEANTIME, CHECK OUT A SNEAK PEAK OF THE INTERVIEWS WE HAVE LINED UP. A SNIPPET BELOW OF OUR BACK-AND-FORTH WITH GACHA FANATIC, KANA YOSHIDA...
INTERVIEW WITH THE OBSESSED
TTF13: How did you come across this project (Gacha Gacha)? Have you worked on other films before?
どのように「ガチャガチャ」に関わるようになりましたか?「ガチャガチャ」の前に演技したことがありますか?

KANA YOSHIDA:


Webで役者募集のページを見つけました。




演劇歴は、神戸の小さなアマチュア劇団で一年ほどです。
I found out on the internet that they were searching for an actress (for the film). I have a year experience in acting at the Kobe Theater.
TTF13: The director remarked on how impressed he was with your audition. How'd that go, and how did you prepare for the role?
監督さんはオーディションにとても感動したと言っています。実際オーディションはどうでしたか、またその役のために何を準備しましたかましたか?

KY:
オーディション後、私も監督さんに「ライバル役のシーンが良かった」とお言葉を頂きました。失礼ながら、きっと優しさで言ってくれているのだなと思っていたのですが、合格の知らせを聞いて「嘘じゃなかったんだな」と、とても嬉しく思いました。

オーディション前には、「憎しみ」から「敗北感」に表情を変化させる練習をしました。あとは、部屋を出ていくときの惨めさ、それを後ろ姿で表情したくて、足取りや、首の傾きなどを練習して会場に向かいましたが、当日はそれが自然に出来ず、ぎこちないものを見せてしまいました。



After the Audition, I was told by the director that my portrayal of "the rival" was good. I thought for sure that he was just saying that to be nice, but after getting the role I understood that it wasn't the case, and that made me very happy.
Before the audition, in order to jump between my feelings of "hatred" and "the sense of failure", I practiced a lot. I also wanted to express the misery of going outside, so on my way to the audition I did that by changing the way I walked, and lowering my head. But on the day of the audition I couldn't do it naturally and it accidently turned into this awkward movement.
TTF13: Tell us a little bit about the experience in working with the Phantasmes production crew.
Phantasmesのチームと働く経験について教えてくれませんか?



KY:




作品に対して熱い思いを持った方ばかりで、それが強く伝わってきました。「こんな人たちの前で中途半端な演技なんか絶対出来ない」と思いました。ひとつのシーンの撮影が終わると、労って声をかけてくれたり、笑いかけてくれたり、皆さん優しい方ばかりでした。



Without saying anything it was very clear that the Phantasmes crew had a great passion for their production. I thought that there was no way I could go half-assed on my performance in front of them. After a scene was finished filming they would compliment me and smile at me. They were all very nice people.
STAY TUNED FOR THE REST OF OUR INTERVIEW WITH KANA YOSHIDA, AS WELL AS OUR IN-DEPTH INTERVIEWS WITH COMPOSER MATTHEW REVERT, PRODUCER TAENA HOSHI, AND GACHA LADY MIKA TOYAMA
Disclaimer: Thirteenth Floor are contributors to the Gacha Gacha campaign